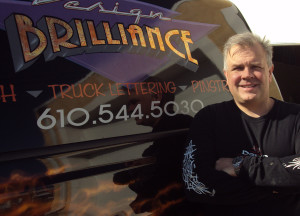 Paul Quinn has been airbrushing for almost 30 years and hand lettering and pinstriping for over 20 years.  He holds a degree in Illustration and Design from Hussian School of Art in Philadelphia, PA. and is the owner and operator of Design Brilliance, a custom paint studio in the Philadelphia area.
Paul's custom painting talents have been featured on Speed Channel's Unique Whips, Jeff Gordon episode. And he recently completed artwork on a 1939 Ford street rod for two-time NHRA Powerade Series Funny Car champion Tony Pedregon.
Paul's How-to articles have appeared in AutoGraphics, Auto Art and several sign industry magazines.  He is a featured pinstriper in the books Pinstriping Masters and Monster Garage's How to Custom Paint Damn Near Anything.
As a member of the DuPont Hot Hues team, Paul was instrumental in the development and introduction of DuPont Hot Hues Hot Pinstripe Efx.  Paul is a resident artist for A.S.E.T. the North American distributor of Iwata airbrushes and spray guns. He also has consulted with Andrew Mack and Son Brush Co. and has his own signature series of brushes.
Paul has received many awards and recognition for his work, including four Top Gun/Hot Hues Awards from DuPont Automotive Finishes. You can view some more of Paul's artwork at www.designbrilliance.net. For questions or comments, you can contact Paul here.
Copyright Design Brilliance LLC, all rights reserved.